Part II
Bergin's character chooses his victims carefully on the basis of their own needs and vulnerabilities. For movie-goers in search of an erotic thriller, humiliation in an S&M context is just fine, but sadness and identity confusion, they would rather do without. From another side, an objection arises to the effect that by pointing out that these victims are attracted to their tormentor - even, in a bewildered way, after the fact - Borden makes them complicit in their own damage. I see no reason for this take. It's clear that Borden's sympathy for these women is profound.
Borden exposes a wound. Viewers want her to suture it. She doesn't.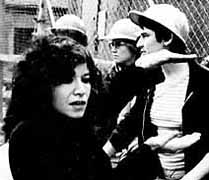 Lizzie Borden
The leads are in a struggle for dominance where roles are periodically reversed. Darkness permeates their surroundings and their souls to the extent that no twist in the plot and no moral posturing is likely to turn on the light. I don't know whether or not Borden set out to make a noir movie; she's apparently exploring the same psycho-sexual stress line she looked at in her previous film, Working Girls. But, Hays Code notwithstanding, Love Crimes feels like noir from the era before Robert Aldrich (Kiss Me Deadly, '55) and Orson Welles (Touch of Evil, '58) figured that if they were going to continue mining this lode, a wink was in order.
The heart of Love Crimes may be in the interviews Young's prosecuting attorney conducts with a number of women who have been victimized by Bergin's predator. If I recall correctly from an article I read years ago, these interviews are based on research Borden did into the real thing, and they set the tone for the complicated interactions that follow.
As far as I can tell, Borden more or less disowned this project. There was studio interference, and that gave her the right to say, "This isn't the movie I intended." But I hope there's something in her that whispers, "No, no - in spite of the studio, in spite of the public, in spite of the critics - I pulled it off."
This movie needs to be rediscovered and framed more in the context of Peeping Tom than Basic Instinct.